Hello,
This is the second edition of the OnçaNews, a monthly newsletter created to keep you informed of everything we have done and experienced from one month to another, as well as keep strengthening our connection on behalf of the environment and biodiversity.
This month, we have many stories to tell you: in August we completed nine years of activities, we reaped the first fruits of a new partnership and we created some virtual safaris to get closer to all of you who believe in our work. In addition, we saw the maned wolf gaining more worldwide visibility, after having its picture stamped on the new Brazilian two hundred reais bill.
Check the latest news from Onçafari and continue being part of this cause.
ONÇAFARI'S ANNIVERSARY
We have a lot to celebrate
We have already spotted more than 150 jaguars, completed more than 3,400 sightings, installed 41 radio-collars and even expanded our operational area – now, besides the Pantanal, our starting point, we are also present in the Amazon, in the Cerrado and in the Atlantic Forest. After having dedicated nine years to the preservation of biodiversity, we accomplished many achievements and we thank you very much for being part of this. May we continue together in the conservation of so many Brazilian species.

ONÇA PARTNERS
The first jaguar spotted at "Refúgio da Ilha"
And the first maned wolf too! The recent partnership with "Refúgio da Ilha" has already brought us many reasons to celebrate: the sighting of a jaguar now called "Parceria" ("Partnership" in Portuguese) and of a maned wolf spotted by two Biologists João Bachur and Edu Fragoso's at six o'clock in the morning. Click on the buttons below and learn more about the story behind each new discovery.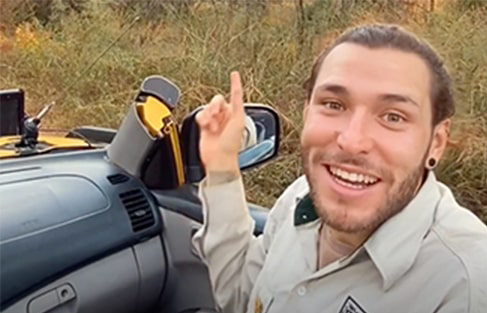 VIRTUAL SAFARIS
Explore pantanal without leaving home
Have you seen one of our virtual safaris? Recently we made the "Safari at Home" series so everyone could learn a little more about the world of the jaguars (animals that are part of this ecosystem) and, of course, admire the landscapes that are part of Onçafari's day-to-day life. In a version for kids, we also made the "Little Safari at Home" at the request of Shopping JK Iguatemi (a huge Shopping Mall). Although both safaris are in Portuguese, the landscapes are so impressive that it's worth watching even if you don't speak the language. Check out the results.

MAKING HISTORY
Daughters of reintroduced jaguars reach maturity
Aurora and Ferinha, daughters of Isa and Fera – the first jaguars successfully reintroduced into nature in the world –, were spotted copulating a few days ago. This shows that they are already sexually mature and, of course, fully adapted to the ecosystem in which they live. Another milestone in the history of Onçafari!